December, where has the time gone?
Maybe to the same place that your odd socks seem to disappear to. I'm convinced that washing machines eat them.
Winter is here – time for a review
It's winter already and I know that because I've started to wear socks, odd ones granted, but I have started wearing them… and I'll let you into a secret – I don't like socks!!
I've also dug out my waterproof boots and jacket, something my mum would have approved of. Though when I walk into hot shops and offices I sometimes curse her.
But it ain't all bleak – there are red robins and acid yellow gorse, along with the Christmas lights and music telling you 'Do you know it's Christmas?' – yes, thank you, I do.
We are all hibernating indoors curled up on the sofa watching Strictly, eating chocolate, panicking about just how much we have to do before Christmas.
The lights come on mid-afternoon and the car lights make streaks across the ceilings as we drive home through the sleety dark. Summer is a distant memory, along with flowers dancing in the garden, butterflies and that bright strappy dress.
The trees are bare, proudly displaying their trunk to us so that we can review their branches and decide what needs to go and what needs to stay. Encouraging new growth from the freshly trimmed trunk.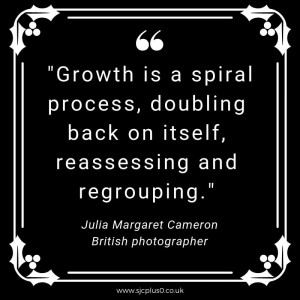 Areas you should focus on for the growth of your business
The same is true for businesses, we need to use this time to take a look at our essential timber. What is working for us? What do we need to trim to encourage new growth? Take a close look at the intricate patterns of your business.
Sales
What is your best product? Is it the one that you get joy from selling or if you're like me, the one that you get a buzz from completing. There is nothing like finalising a set of accounts, talking through the figures with a client and deciding on how the business is going to proceed.
Margins
What makes the most money? Does this surprise you? Is the new project that you have thrown yourself wholeheartedly into, making you any money, or is it just an indulgence?
Can we keep the project and tweak the price? Nothing like a good tweak!
Overheads
Can we shave these costs? Does that weekly meeting with a group of like-minded individuals actually help your business? This might not just be of monetary value – the meeting may allow you to share information and develop strong relationships.
Or is that ego trip taking you and your business nowhere?
Hours
Are you using your time constructively? Are you leaving room to be creative, to think, to dream? You only have 168 hours per week and some of that is used to sleep. It's a nice thought.
So whether you're the President, Prime Minister, or CEO, or running your own small business, we all only have 168 hours per week. Are you drowning in time? Does it have its clutches around your feet pulling you down?
I know exactly what you need, you need to push the pause button so that everything stops. Give yourself time to catch up, to review the story of your business and its evidence towards the life you're living. Wouldn't that be great!
If you need help overviewing your business and making some good financial decisions then let's chat.